Winkelwagen
Geen artikelen in winkelwagen.
Links
Aanbieding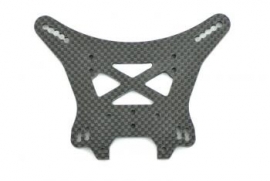 Shocktower carbon RR 811-T-e (#600671)
€ 56,90
€ 51,99
Serpent F110 Formula 1/10 EP SF3 (#410065)
Serpent introduces the new Serpent F110 – SF3 Formula 1 car. The next evolution of the Serpent F110 platform takes F1 1/10 racing to new levels of performance. The F110 SF3 is based on the racing experience gained over the last 2 years of racing IDFM, ETS, TiTC, CETC and races all over the world. Main specs of the car. - New narrow lightweight 2.5mm aluminum 7075 T6 chassis plate with black finish - New carbon fiber front lower suspension plate in 2.5mm running all the way across instead having a separated left and rear side. - New carbon fiber bolt-on side-pod plates to mount the electronics and weights - Strong adjustable high downforce front nylon wing in a new more flexible composite material - Carbon fiber rear top-deck, front top-deck, shock centerplate, rear pod plate, body mount plate and rear wing mount plate - Front suspension with strong 2.5mm lower carbon wishbone and aero type composite upper suspension arms; fully adjustable - Durable steering blocks with upper pivot ball and kingpin spring system - Adjustable kingpin inclination with inserts - Adjustable ride height to suit both rubber and foam tires - Caster adjustment with easy access inserts in the top carbon bracket - Aluminum servo holder and new type steering saver system with adjustable Ackermann - Lightweight central shock absorber RCC type with threaded housing for fine-tuning - Spring-loaded Link-type rear suspension with single tube - New style bind-free central pivot ball system - Pan car style rear end with low CG aluminum/carbon power pod - Strong and light aluminum rear axle - Durable and light ball-differential, and light aluminum hex wheel-hubs with steel insert - Large durable adjustable 2 level composite rear wing - High quality ball-bearings and fasteners - Strong nylon body mounts with fine tuning nuts - Optional wide front end available for use with foam tires Not included - Body, Tires/wheels/ electronics, gears.