Winkelwagen
Geen artikelen in winkelwagen.
Links
Aanbieding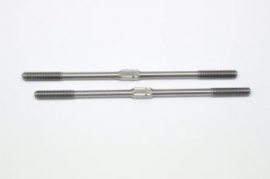 Track rod M4x92 titanium (2) (#600413)
€ 29,50
€ 26,99
Verzendkosten
For deliveries to your country in Europe Choose from the pulldouwn table
If you country is not listed, Inside Europe, select EURO.
If you country is not listed, Outside Europe, select Rest of the WORLD.
In de meeste gevallen doen we geen terugbetaling betalingen, via PayPal en bank overschrijving.
In the most cases, we don't refund payments, true PayPal and Bank transfer.

Track and Trace Kosten
In Nederland
0 kg tot 10,000 kg = € 7,50
10,000 kg tot 30,000 kg = € 15,00

Kleine bestellingen van 20-50 gram binnen Nederland tot 25€ is het mogelijk dit versturen in een envelop (1.50€). Kies dan optie Nederland via briefpost.
EURO
0 kg tot 2,000 kg = € 19,30
2,000 kg tot 5,000 kg = € 26,30
5,000 kg tot 10,000 kg = € 31,00
10,000 kg tot 20,000 kg = € 42,30
WORLD
0 kg tot 2,000 kg = € 24,30
2,000 kg tot 5,000 kg = € 34,30
5,000 kg tot 10,000 kg = € 58,30
10,000 kg tot 20,000 kg = € 105,30